Your location:HOME > NEWS > Company information
After the 90s, the talents piloted, the rise of metal-coated panels
Release date:2019-04-30 | Browse:156 | Back to previous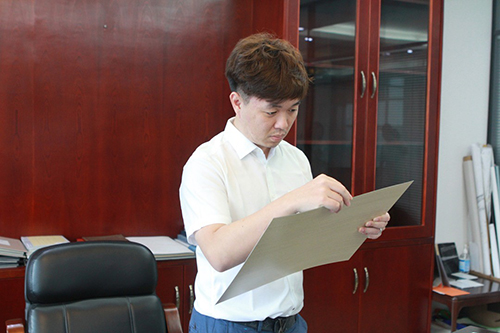 Young Talents Double Master's Degree in Famous Schools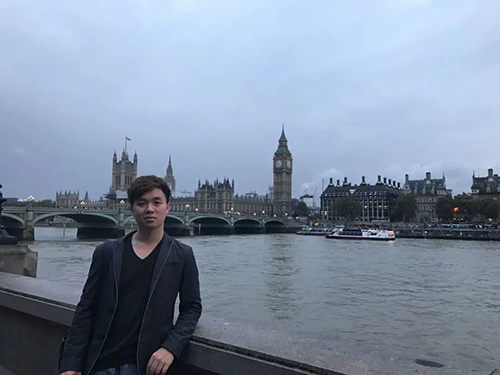 Liao Yunzhao, born in 1994, is from Dapu, Meizhou, Guangdong. Emerson said, "There has never been a great career in history that was not successful because of passion. There are many factors that make a person successful, and the first of these factors is enthusiasm. Without enthusiasm, no matter how much energy you have , can't play it." With enthusiasm for technology research, he chose material molding and control engineering (polymer material molding and control) major, and graduated from South China University of Technology with honors in 2016 with a bachelor's degree in engineering. Bachelor. After graduating from his undergraduate degree, Liao Yunzhao went to the University of Leeds in the United Kingdom to study and in-depth study of Western management concepts and ways of thinking, and obtained a master's degree in management. With a keen sense of the future industrial development and transformation trend, he believes that it is necessary to have the thinking of finance and investment. In September 2018, he went abroad to study again and studied for a master's degree in finance and investment at Queen Mary University of London, UK, and successfully completed in September 2019. Graduated with a BA in Finance.
"One learns to know, not to learn is unnatural. Everything has to be lucked out by oneself, and he is not worthy. Youth must be done early, how can one grow up young." Liao Yunzhao armed himself with rich knowledge, and has a clear career plan, He has a unique vision, he said, "Because of being sensitive to data, I have thought about working in finance, but I have learned about the products of metal clad laminates two or three years ago, and I feel that this is an opportunity. It's a blowout growth." Liao Yunzhao found his beacon of life, and after graduating and returning to China, he went into battle as the executive deputy general manager of Foshan Youtu New Material Technology Co., Ltd., and officially started his own business.
VCM metal coated board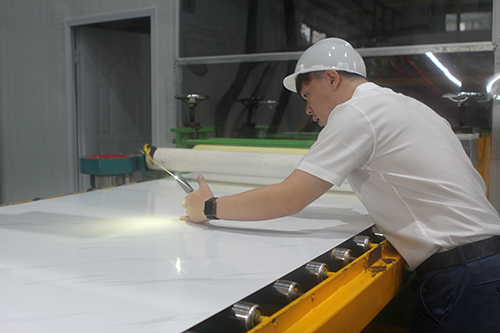 Foshan Youtu New Material Technology Co., Ltd. is located in Leping High-tech Park, Sanshui, Foshan. It is a company incubated and established by the research results of Guangdong Hongbo Building Materials Provincial Engineering R&D Center. The company mainly produces, develops and sells Youzhitu series VCM metal-coated sheets. It has domestic advanced coated steel sheet production lines and product deep-processing slitting lines, with a designed annual output of more than 5 million square meters.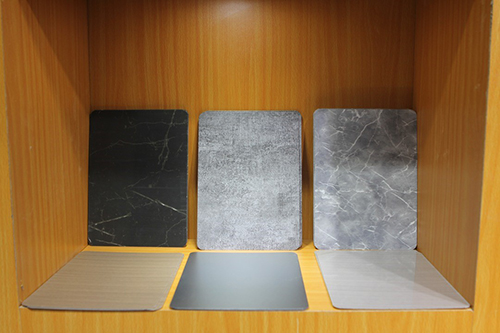 Youzhitu series VCM metal-coated panels have superior performance, easy to form, no pollution, convenient and high-efficiency installation, moisture-proof, moth-proof and fire-proof, and good acid resistance. The types are more diverse, thousands of colors are available. But at present, people don't know enough about metal-coated panels. Metal-coated panels are actually decorative films made of PVC or other materials, which are pasted on the metal substrate. It mainly plays the functions of decoration and improving texture. There are many kinds of metal substrates: galvanized sheet, cold-rolled sheet, stainless steel sheet, aluminum sheet, etc. There are also more and more types of membranes, such as antibacterial membranes (mostly used in hospitals), super scratch-resistant membranes (traditional wall surfaces), negative ion membranes, etc. Basically, you can make whatever pattern the customer wants, to meet the ever-changing needs of the customer, including wood grain, marble grain, metal wire drawing, etc., and the degree of customization is very high. Youtu can give the film different functions and effects according to the needs of customers, and provide more value to customers' products.
Metal-coated panels are used in many industries and are widely used. For example, they are used in integral shower rooms, metal bathroom cabinets, partition wall panels, aluminum furniture, and home appliance panels. They have unique advantages in each industry. For example, in the field of wall panels, VCM metal film-coated panels are a systematic product, which requires much shorter construction periods and can be assembled directly. The installation time is one word - "fast", which is especially suitable for some public decoration places. In terms of loading and unloading, if aluminum is used as a wall panel, it has recyclable value after it is removed. And some projects can be changed at a lower cost at any time, regardless of the season, according to the customer's preference for fancy styles.
"Where there is a will, it is accomplished"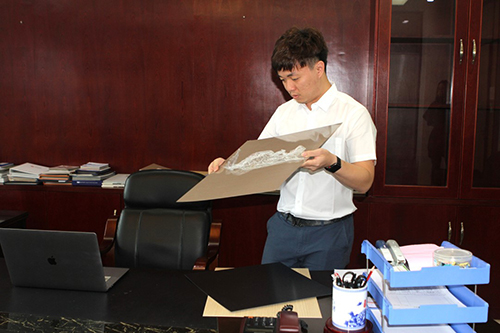 At the beginning of 2020, Mr. Liao Yunzhao took over the operation and management of Youtu New Materials Company. However, the beginning is difficult. When Liao Yunzhao took over, Youtu was in a difficult time, and the equipment was still in the stage of continuous debugging. "A new production line that exceeds 100 meters will have many small problems and require a long debugging time, which is inevitable." Production quality Unstable, workers' confidence is thwarted, the sales section is even more blank, and there is no one in the office. Liao Yunzhao didn't feel anxious and annoyed because of this. As a young entrepreneur, his wisdom and courage are beginning to emerge. All work starts from scratch, he is good at observation and diligent in thinking. After identifying the key problem points of the enterprise, make point-to-point decisions quickly. Konosuke Matsushita has a famous saying about management: "Enterprise management used to be communication, now it is communication, and the future is still communication". Knowing the importance of communication, Liao Yunzhao personally interviewed each employee to understand the concerns and difficulties of the employees, unravel the knots of the employees' hearts, and re-invigorate their hearts. On the other hand, introduce new factory managers and help them quickly integrate into the production team, recruit excellent sales teams, etc. After rebuilding the team, Mr. Liao attacked the development of production. Like the brightest star in the night sky, he firmly pointed out the direction for his team that was temporarily lost in the dark night. Get on. Make the product and turn on the equipment!"
Liao Yunzhao steered and piloted the whole way, leading Youtu to ride the wind and waves. While repeatedly and patiently debugging the equipment, Liao Yunzhao led the buyers to go around the raw material market and carefully selected high-quality raw material suppliers. He firmly believed that good products need good raw material support. He instilled the idea of Youtu as a high-end product to suppliers until he found like-minded suppliers. Like-minded people can achieve win-win cooperation.
With the concerted efforts of everyone, in April 2020, the equipment debugging was completed, and the first batch of high-quality products were produced. Since the beginning of this year, Liao Yunzhao has focused on the development of new products in production on the one hand, and on the other hand, led the sales team to develop the market and cultivate a large number of customer resources. Under the leadership of Liao Yunzhao, UTU's production is currently in a straight-up stage, with monthly production doubling, and it is expected that the production will increase explosively by the end of the year. If there is a will, it will be done.
"A gentleman is erudite, but he is always looking out for himself.
Knowing and doing nothing is wrong. "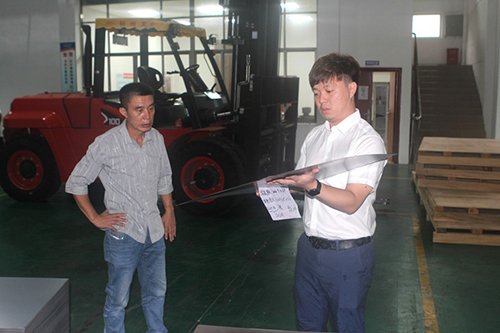 Faced with this gratifying momentum, Liao Yunzhao was not complacent. Reflecting on himself along the way, Liao Yunzhao only gave himself 75 points. Explaining the reason, he said, "The company has taken a lot of detours in the early stage, the team building progress is a little slower, and some things in the company have not yet been put in place, such as some small problems in team cooperation, sales not reaching the expected goals, etc. There is a lot of room for improvement."
A gentleman's nine thoughts, three times a day, thinking - action, so repeating, insisting on improving 1% every day/week is a valuable asset. Accumulate a few steps to thousands of miles, and accumulate small streams into rivers and seas. Liao Yunzhao takes one day every week to do nothing, and the production of orders in the workshop is also stopped, leaving space for the production test machine. Whenever he goes out to the market to come into contact with new things and things that can be improved, such as new processes that can improve the quality and stability of products, and some raw materials or accessories that can improve product quality, they are collected by him for testing. "It is not difficult to make a batch of good products, as long as the equipment is not flawed. The difficulty is to make good products in each batch and maintain stable quality. This is the ability." Liao Yunzhao always insists on quality first. concept, spend time developing new products and improving production processes. Innovation is the source of enterprise development. He wasted the day without hesitation, wasting some materials for testing. "Don't be afraid of waste, what if it succeeds? If the test is successful, the whole production quality will be more stable and the performance will be better." The newborn calf is not afraid of tigers, he confidently said, "If you make the product better than others, the customers will be more stable. choose us!"
In order to maintain the reliability of product quality and win the trust of customers, Liao Yunzhao uses "strict rules" to demand himself. "The quality requirements of home appliance boards are the highest, and all products are tested in accordance with the test standards for home appliance boards." According to reports, UTU products must pass 14 tests strictly before they leave the factory, and they can only be packaged if they meet the standards. Youtu's equipment is all high-end equipment. "Only the products made by high-end equipment are more stable and have better performance." Keep improving and keep the original intention, Liao Yunzhao always insists on producing high-quality products. Quality is the life of the enterprise and is the market grab "Killer", quality is the last word!
"Dapeng rises with the same wind in one day and soars up to 90,000 miles."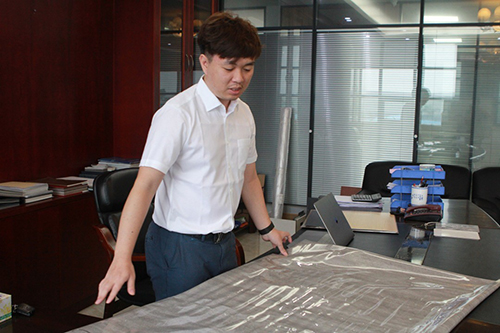 After a period of in-depth market research, Liao Yunzhao found that "in the entire South China region, in this industry, there are very few companies with configurations like Youtu." management, Youtu has shown certain advantages. Industrial competition depends on products, and product competition depends on quality. "Only we can take certain types of orders. Customers have reported that we have a strong sense of service, and the entire process is highly coordinated." The recognition of more and more customers has made Liao Yunzhao more confident. "Strive for the production capacity of the two production lines in 2021. Fully open. In 2022, the production chain will be extended downward, and some deep processing will be done appropriately. The current production is sheet metal, and the next step may be directly made into wall panels, metal cabinets, and directly to the terminal. At least in a certain one The field, and finally the terminal." Facing Youtu's future plan, as clear as his own career plan, Liao Yunzhao has great ambitions, looks up to the stars and is firmly down-to-earth. The road is long and long, and the road is coming. Under the pressure of the complex and changeable environment, Liao Yunzhao rode his horse and swung his whip, holding a "quality" sharp blade, and took Youtu to break through against the trend. Looking into his eyes, it seems that you can see that Youtu's voyage is infinite, and its glory has a future.
A modest gentleman, who is far-sighted, strategizing, commanding, and repeatedly showing the style of young generals, this is Liao Yunzhao.